About Us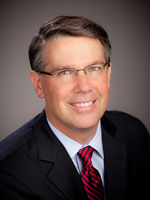 Greg Pierce, MBA, CFP®, EA
Greg Pierce, MBA, CFP® , EA founded Pierce Financial Strategies, LLC with a mission to serve as a trusted guide to hard working individuals and families who want to get the most out of their money – and out of their life.
He does not take the word "trust" lightly:
"I've talked to a lot people who want and need the help of a financial professional but they don't know who to turn to, who they can trust. That's why it is important to me to have a fee-only practice. I don't sell any financial products nor do I earn any type of referral revenue. The only money I receive comes directly from my clients so I'm always thinking about what's best for them, I'm always doing what's in their best interest."
He began practicing financial planning after a successful 20 year career in the insurance industry that culminated in an executive position with oversight of a $200 million portfolio of insurance policies. His experience in insurance gave him a deep appreciation for risk – he believes it is a vital part of his job to help clients think carefully about how the concept of risk applies to their investment portfolios as well as other areas of their financial life.
Greg is a CERTIFIED FINANCIAL PLANNER™ (CFP®) practitioner and an Enrolled Agent (EA) with the IRS. To earn the CFP® designation, Greg completed the required foundational education curriculum at Boston University and he successfully passed a 10 hour comprehensive certification exam as well as met an extensive work experience requirement. To earn the EA designation, Greg passed a three-part, comprehensive set of IRS exams covering individual and business taxation. Both designations require Greg to adhere to high ethical standards and to meet ongoing continuing education requirements.
Greg earned a BA from St. Louis University and an MBA from Washington University in St. Louis. He was inducted into the Beta Gamma Sigma Honor Society based on his academic achievement at Washington University, where he also received the Professional Achievement Award "for the graduating MBA student who has best exemplified the qualities of integrity, loyalty to friends and country, courage, intelligence, and high standards of personal conduct."
Greg is a member of the Alliance of Comprehensive Planners (ACP), a national organization of fee-only financial planners who embrace a comprehensive, tax-focused, and retainer-based approach to financial planning. ACP gives Greg direct access to a host of highly skilled financial planning experts from around the country who have various backgrounds of expertise, including estate planning attorneys, CPA's and other tax professionals, investment managers, and insurance agents. He is also a member of the NATP (National Association of Tax Professionals), an organization dedicated to providing tax education, industry-leading tax research, and up-to-the-minute tax code insights.
Pierce Financial Strategies, LLC is a Registered Investment Advisor in the state of Missouri. The firm may only transact business with Missouri residents and residents of other states where otherwise legally permitted, subject to exemption or exclusion from registration requirements.
Greg lives in St. Louis, MO, with his wife and two children. His love of long distance running inspired him to complete three marathons (New York City, Chicago and Phoenix) as well as more than a dozen half marathons in various parts of the country. He relishes conjuring up the discipline required to properly train for a marathon – he believes it is this same discipline that allows him to keep his clients focused and on track as they strive to meet their financial goals.